Jodie Howell Tate, a beautiful golden retriever, joined our family on July 6, 2006, when she was 4 years old. Her first family could not take her with them when they moved, so they graciously gave her to us. We were blessed to adopt her.
Our 6 cats hissed and hid at first (visualize tails fluffed like bottle brushes) but settled down pretty quickly, and they all got along well after a few days. Jodie mostly ignored them until they got into cat fights, and then she became Cat Cop and broke things up. Dixie adored Jodie and often talked to her, showed off by rolling back and forth, and begged her to play; eventually Jodie would just walk away. Tolerating cats (even sharing the sofa with them) was one thing, but playing with them was beneath her canine dignity.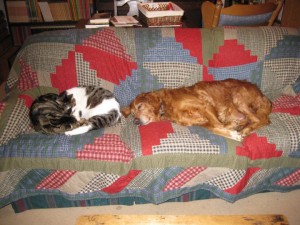 Our family pet mythology identified Jodie as the founder of Snoutbook, an online network for pets. She was also known as the Puppy Sailor—which derived from her nickname Snouta, which rhymes with the Latin "nauta," meaning sailor. (We're a weird family that loves wordplay.) She was a passionate fan of bread; no bagel was safe with her around. She was terrified of thunderstorms but fierce about UPS trucks. She had an infallible radar for knowing exactly where to lie in the house to block the maximum amount of foot traffic at any time. In her final year, she lost much of her hearing and had trouble getting onto and off the sofa . . . but she could still run like a rocket in the back yard.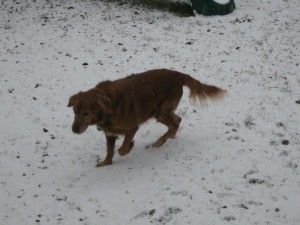 Jodie was a wonderful friend to my 4 sons and was a great companion to me when they were away from home. She lived 13 good years before her death on May 15, 2015. We will miss her greatly.