Stop Enduring the Journey—
and Start Enjoying It!
Exhausted? Overloaded? Teetering on the brink of burnout? As a homeschooling mom, it's easy to find yourself paralyzed by an overwhelming to-do list, and false guilt only adds to the burden. If you've just been getting by, it's time to start flourishing! Learn how to:
• Stop the juggling act and find a balance you can live with
• Minimize interruptions while being sensitive to real needs
• Take care of yourself so you can take care of your family
• Value and protect your time to do what matters most
• Establish a pace you can maintain for the marathon of life
Flourish: Balance for Homeschool Moms includes customizable planning forms, step-by-step exercises, and special chapters for single moms and families who have a home business. Find peace in the space between the ideal and reality so that you and your family can enjoy the homeschooling journey!
Limited-time offer: Get FREE bonuses valued at over $100 when you buy Flourish. Details here.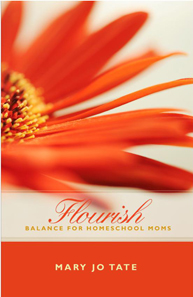 Buy the Book
Buy the Book >>