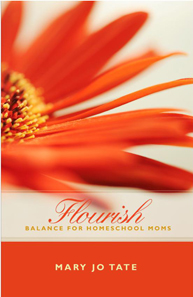 You can buy Flourish: Balance for Homeschool Moms by Mary Jo Tate directly from the author or at any of the retailers below.
View a sample chapter of the book here.
Limited-time offer: Get FREE bonuses valued at over $100 when you buy Flourish. Details here.
Buy the Book
Buy from the Author
Book Price: $15.00
Shipping cost: $4.00 for the contiguous U.S.
Media Mail – 7-10 Days
If your address is in Alaska, Hawaii, or APO/FPO, please choose another vendor, as I am currently unable to ship there. Thanks! If you'd like me to sign your book, please leave a note in "Add special instructions to the seller" during the checkout process. Let me know if you'd like me to (1) only sign my name, (2) add a note, or (3) inscribe it specifically to your name, with a note.
Buy the Book >>
Apple, the Apple logo, and iTunes® are trademarks of Apple Inc., registered in the U.S. and other countries. iTunes is for legal or rightholder-authorized copying only. Don't steal music.
Save