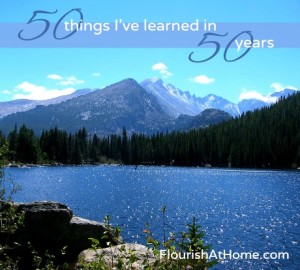 For my 50th birthday, I've compiled a list of some of the most important lessons I've learned in (ahem) half a century.
Life is an adventure.
Find peace in the space between the ideal and reality.
Always say yes to chocolate.
Your past shapes you, but it doesn't define you.
Give generously; receive graciously.
Your heart and your head are meant to cooperate, not to compete.
Sometimes it's OK just to be . . . not to do.
Live boldly.
Count your blessings.
Always leave some margin in your schedule.
Don't worry about what other people think.
Naps are for grown-ups too.
Cook once; eat twice.
Don't try to be a lone ranger.
You'll never have more than 24 hours in a day.
Rest in God's faithfulness.
Get out of your comfort zone.
Eliminate, delegate, outsource.
This too shall pass.
Be kind.
Opportunity does not equal obligation.
Taking time to relax increases your productivity.
Be yourself.
Never stop learning and growing.
Pick your battles.
Solitude isn't scary.
Think big.
Be flexible.
Don't always be in a hurry.
A joyful heart is good medicine.
Meet challenges with action, not avoidance.
Write it down.
Self-discipline and focus are essential ingredients of success.
Treasure your friends.
Don't let fear hold you back.
Read widely.
Enjoy the journey as well as the destination.
God's grace is sufficient.
Cultivate your creativity.
Don't wait for someday to do what matters most.
Silence is golden.
If it ain't broke, don't fix it.
People are more important than things.
Explore new places.
The days are long, but the years are short.
Say no to the good to say yes to the best.
Stop and smell the roses.
Sometimes less is more.
Savor the beauty of God's creation.
Life is a marathon, not a sprint.
Which of these truths have been most important in your life? I'd love for you to add your own lessons in the comments!