Want to move past the juggling act and
learn the secrets of balancing your
busy life so you can flourish at home?
Are you ever so busy that you forget to eat and sleep?
Do you ever wonder what good it does to be at home if you're too busy to spend time with your children?
Are you ever paralyzed by such a long to-do list that you don't know where to start?
Do you drag through the day exhausted, thinking only of how much longer it is before you can finally collapse into bed . . . just to get up and start all over the next day?
Do you ever feel like you could finally "get it all done" . . . if you could just get past that 24-hours-in-a-day barrier?
Balancing all our responsibilities as moms is tough, isn't it? Sometimes the task seems better suited to Supermom than ordinary mortals.
As a single homeschooling mom with four sons and a growing home business as an author, editor, and book coach, I know just how hard the challenges can be! People are constantly asking me, "How do you do it all?"
Well, I'm definitely not Supermom (who wants to wear a cape anyway?), but I have developed powerful strategies that cut through the chaos and get results.
In my e-book, From Frazzled to Focused: 7 Planning Tools for Busy Moms, I share powerful yet realistic ways to move past the juggling act and find balance so you, your family, and your business can flourish. As a bonus, you'll also receive access to the exact planning forms I created to balance my own busy life.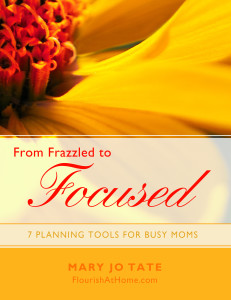 From Frazzled to Focused will help you to establish your long-term vision and to plan your year, month, week, and day. You'll also receive these FREE customizable planning forms:
Big Dream Brainstorming Guide to help you establish a long-term vision
Strategic Guide to Yearly Review and Goal Planning
Yearly Review form to help you assess the previous year
Yearly Goal Planner form to chart a course for the year ahead
Weekly Planner for balancing personal life, family, and business
I hope that these strategies and tools will help YOU move from frazzled to focused!
Buy From Frazzled to Focused (e-book) for only $3.99 and get the bonus downloadable planning forms FREE.