Moms at home are often exhausted, overloaded, and hovering on the brink of burnout. It's easy to be paralyzed by focusing on everything we can't do and to become trapped in a crisis-management approach to life. False guilt only adds to the burden.
In 21 years of mothering (the last 12 as a single mom), homeschooling, and running a home business, I've found a lot of  practical ways to trade in the juggling act for a more peaceful, balanced life. I'm definitely not Supermom though—I've personally test-driven a lot of mistakes so you don't have to. I'm going to tell it to you straight—the good, the bad, and the ugly.
My hope for this blog is to offer encouragement, inspiration, and practical strategies to help you flourish at home!
Be sure to sign up for my e-mail newsletter (in the sign-up box on the right) and get a FREE copy of my e-book on planning for busy moms.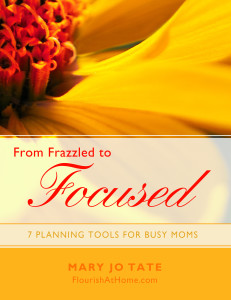 What are YOUR biggest challenges as a stay-at-home mom, work-at-home mom, or homeschooling mom? Your comments will help me help you!